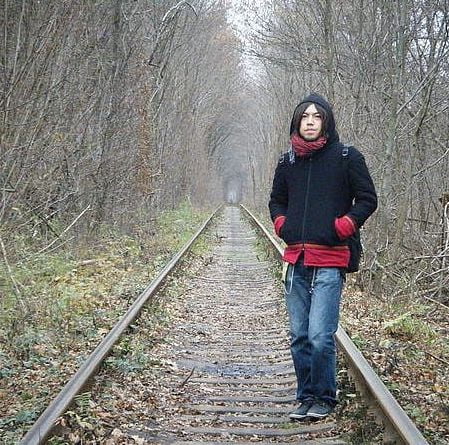 Muneo Ishikawa

石川宗生
Bio
Muneo Ishikawa is a Sci-Fi writer, a travel skecther, and a translator. Born in Chiba at Novermber 11th, 1984. Studied astrophysics at Ohio Wesleyan University. After the graduation, started his career as a English to Japanese translator. Remarkables translations are "INSIDE FERRARI" and "Memory Power: You Can Develop A Great Memory--America's Grand Master Shows You How".
Besides working as a translator, he has traveled all over the world for 4 years. Studied French in Marocco for 3 months and Spanish in Mexico and Guatemala for a year, as a result, he devoted himself to Hispanoamérica literature.
In 2016, he won the 7th Sogen SF Short Story Contest with "19329 Daisuke Yoshida" and made his debut as a writer. Published his first book "Cloven World"in 2018. Now writing travel sketch of Central Asia and Eastern Europe at Web Mysteries of Sogensha. Also writing Sci-Fi flash ficstion at Shousetsu Subaru.
He likes fantasy, Sci-Fi, and kafkaesque. He is also a fan of writers like Kurt Vonnegut, Juan Rulfo, Richard Brautigan and so on.
List of Works
"Cloven World"(半分世界), 2018 Tokyo Sogensha, finalist of the 39th Japan SF Grand Prize
"White and Black Darby"(白黒ダービー小史) 2017 Tokyo Sogensha, finalist of the 49th Seiun Award Short Story Section
"19329 Daisuke Yoshida"(吉田同名) 2016 Tokyo Sogensha, won the 7th Sogen SF Short Story Award, nominee of the 48th Seiun Award
"Hotel Arcadia"(ホテル・アルカディア) 2020 Shueisha, won the 30th Bunkamura DEUX MAGOTS Award
Selected Reviews
Recalled Italo Calvino, Steven Millhauser, Seth Fried and variaous wirters, Muneo Ishikawa's works are unique at the way of showing impossible situations and resolving them in a Copernican revolution. Now I know the charm of reading his works. Looking forward for his next work.
Ladies and gentlemen, please be prepared to take off your hat.
Unfortunately genius. Surprising skills. Sentences are overwhelmming as a new comer, metaphors break your stereotypes. His theses seems like a fish story accidentally born in conversations, but it goes far as it grows like an egg breaks it's own shell. It's not neither a boring moral nor a sob story, but it displays a landscape outside of laughing, which you have never seen.